OPEN STAGE 2018: SAMULNORI
Korean Cultural Center New York is proud to present 2018 OPEN STAGE: SAMULNORI, celebrating the 40th anniversary of the creation of one of the most popular Korean music genres performed on stage with over 10 performances throughout the year 2018, spanning across the Northeast US.
Since samulnori both as a genre and performance group was established in 1978, it has sparked a renaissance in Korea's music scene and gained worldwide acclaim. 2018 marks samulnori's 40th anniversary as a new genre of performance art.
Since 2011, KCCNY has held the annual OPEN STAGE public contest to provide a stage for selected talents from Korea and chosen locally to present their performances in New York. This year, a public contest was held to provide a platform for artists seeking to reinterpret, localize, and globalize samulnori inspired performances that exemplify the highest tier of both traditional and contemporary works.
Special performances by one of the founding members of samulnori, Duk Soo Kim, as well as NYU's student team Rhythmic Impulse, show the range and breadth of the genre as well as its future.
Why Samulnori? Why now?
Our modern world is full of conflict, especially with us humans at the center. With the development of industry and technology, there has arisen an imbalance of the natural world order, and these days, we often feel the devastating impacts of the counteraction taken by mother nature.
Rather than emphasizing the differences or only strengthening just one side to quiet the other, what is needed most desperately is harmony. Tolerance and understanding is needed to maintain stability and in turn, balance restored.
Samulnori, above all, understands this need for harmony, as each of the instruments' sounds differ and represent individual aspects of nature (lightning, rain, wind, clouds), yet combine to create a single, unified sound. With so many intricacies of the instruments as well as regional and historic differences, each artist must fully master not only his/her own sound, but have knowledge of and respect for every other member of the group.
It is only when this mutual consideration of sounds, rhythms, communication, and breath occur that the art of samulnori can reach its musical height.
In parallel, with a respect for ideas of consideration of others, we can nurture a culture of not just survival, but regeneration, revival, and resonance in harmony with nature.
FULL PERFORMANCE LINEUP
(Please click on individual event for more information)
Saturday, February 3rd,
5PM
Cornell Shimtah's 17th Annual Concert
(Cornell University, Ithaca, NY)
Saturday, February 17th,
1PM
Family Day: Moon Over Manhattan
Celebrate the Lunar New Year 2018
with the New York Korean Traditional Marching Band
(Asia Society, 725 Park Ave, NYC)
Saturday, March 24th,
6PM
Samulnori in NYC
with the New York Korean Traditional Marching Band
(New York University, NYC)
Saturday, April 21st,
12PM
NYURI (NYU's Rhythmic Impulse) WSP 2018
(Washington Square Park, NYC)
Korean Traditional Music Festival 2018 in NY
with Kim Duk Soo Samulnori and Muakpoongryu
(Promise Theater, 130-30 31st Ave, Flushing, NY)
Korean Traditional Music Festival 2018 in NY
with Kim Duk Soo Samulnori and Muakpoongryu
(Promise Theater, 130-30 31st Ave, Flushing, NY)
Korean Traditional Music Festival 2018 in PA
with Kim Duk Soo Samulnori and Muakpoongryu
(Annenberg Center for the Performing Arts, 3680 Walnut St, Philadelphia, PA)
Korean Traditional Music Festival 2018 in NJ
with Kim Duk Soo Samulnori and Muakpoongryu
(Bergen Performing Arts Center, 30 N Van Brunt St, Englewood, NJ)
Light & BEAT by BEAT Production
(Flushing Town Hall, 137-35 Northern Blvd, Flushing, NY)
Saturday & Sunday,
November 17th & 18th,
12 - 5 pm
Ultimate Birthday Bash! with NY Samulnori
(Long Island Children's Museum, 11 Davis Ave, Garden City, NY )
ABOUT SAMULNORI (사물놀이)
Figure 1.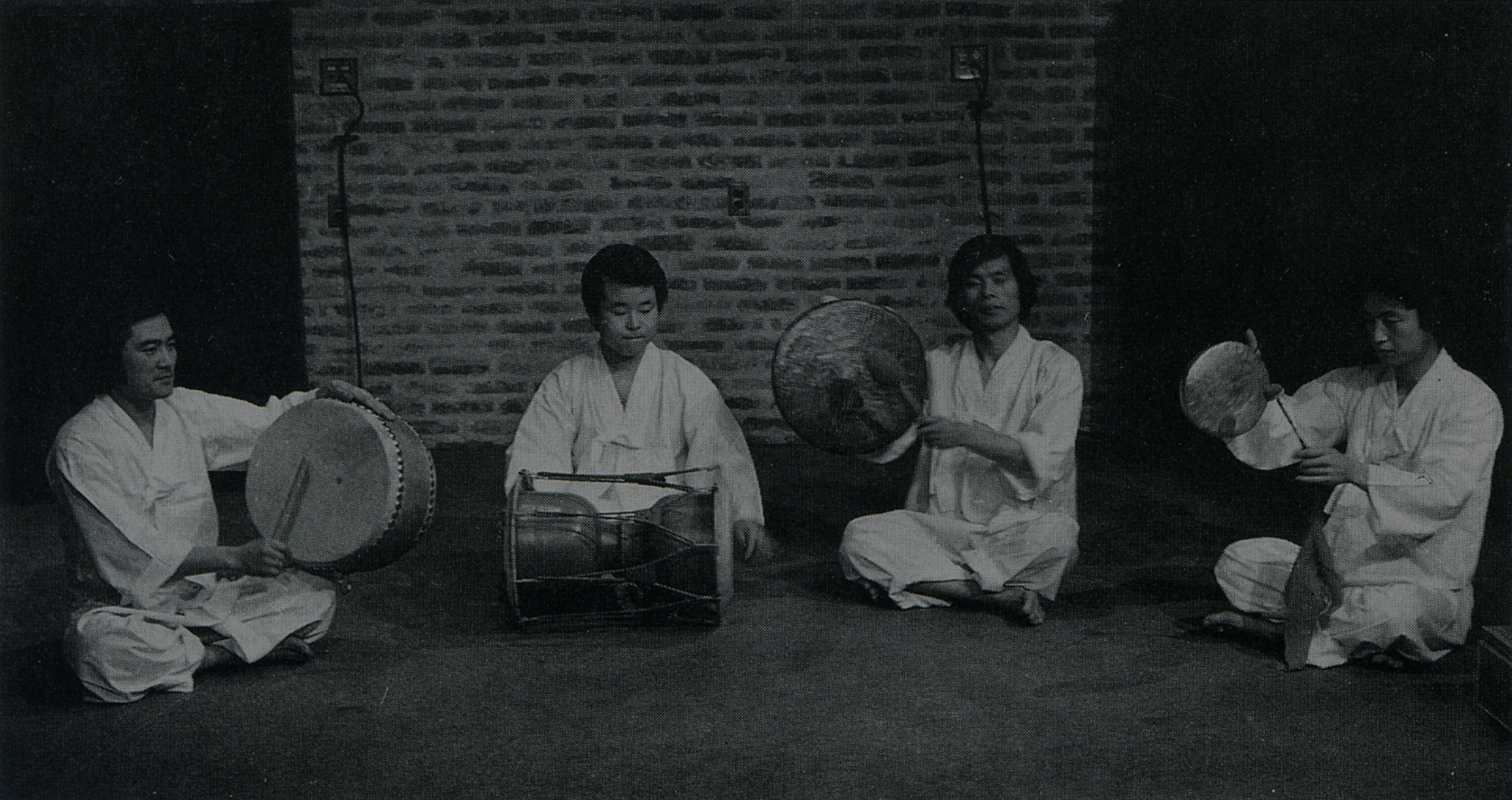 The Korean words 'samul' means 'four things' and 'nori' means 'to play.' In the case of samulnori, it refers to the four musicians playing and dancing with four percussion instruments. It can refer both to the style of Korean traditional music and dance performed, but can also refer to the actual name of the group of four musicians dedicated to performing and preserving the art (stylized as "SamulNori" in such cases).
Since samulnori as a genre and performing group was established in 1978, it has sparked a renaissance in Korea's music scene and gained worldwide acclaim. 2018 marks samulnori's 40th anniversary as a new genre of performance art.
Samulnori has become the leading traditional Korean performance genres and is centered on masterful percussion. The ensemble performs in many configurations, but usually tours as a quartet. The origins of their music can be traced to what is usually referred to as farmers' band music (pungmul) and ceremonial music (gut). It also incorporates the influences of folk and religious music.
THE ORIGINS OF SOUND
Figure 2.
Samulnori has its roots in pungmul (Korean music culture with a focus on traditional percussion). It is Korean folk genre comprising music, acrobatics, folk dance, and rituals, which was traditionally performed in rice farming villages in order to ensure and to celebrate good harvests.
In agrarian society of Korean history, farmers worked in collectives, working together to improve their chances for a successful harvest. Often, each village had their own "farmer's band" that would not only play on these special ritual occasions to pray to the heavens for good weather or an abundant harvest, but also simply to encourage the farmers as they worked. Their music of pungmul, also often called nongak(literally, "farming music"), is the origin of samulnori.
Pungmul instruments were believed thought to have the power to summon good spirits and drive the bad ones away. They also have the mystical power to restore a person's energy. Farmers sought shinmyung through pungmul in order to find energy for their demanding work.
Shinmyung fills the musicians and listeners as loneliness and sorrows fade and are transformed into joy.
Until modern times, the majority of South Korean society was based in agriculture, and so pungmul defined Korean folk music and popular music. This grew to reflect the rhythms and spirit of Korea. The music and dance of these times played an integral role in promoting unity within the community.
Pungmul is fundamentally a bold cultural act of gathering together a whole community's hope and wishes, of overcoming sorrow by creating shinmyung, and of nurturing a culture of survival and regeneration.
Samulnori music is based on four Korean traditional percussion instruments. Each of the instruments represents a different element in nature.
The theory of yin and yang (in Korean, um and yang) is illustrated throughout the music. It is seen in the balance of the two metal instruments with two leather instruments. The steel instruments represents yang, the heavens, male, and brightness while the leather ones represent um, the earth, female, and darkness.

Each of the instruments represents a different element in nature.
Kkwaenggwari (꽹과리)
Kkwaenggwari (small gong) is made mainly of brass with trace of gold or silver. It is hand-held and played with a bamboo mallet. One hand holds the mallet while the other hand is responsible for dampening the sound as needed. The player of this instrument often plays the role of leader, signaling transitions in the music.
The kkwaenggwari is associated with lightning.
Jing (징)
The jing is a large gong that is struck with a padded stick. This instrument can be played in a number of ways: hung on a frame, hand-held by handle, or played with two hands. The jing makes a vibrating, oscillating sound, imitating the shapes of the valleys of Korea.
The jing is associated with the wind.
Janggu (장구)
Janggu is often called the hourglass drum, referring to its shape. The drum has two sides, each with different types of leather skin. One side produces high pitched sound while the other produces a lower one; the edges of the drum are also used to make even more variations of sounds.
The janggu is associated with rain.
Buk (북)
The Buk is a barrel drum, made of a piece of hollowed out wood and two leather skins tied to the wood. It is played by a single stick and provides the deepest bass sounds of the group.
The buk is associated with the clouds.
HISTORY OF SAMULNORI AND SamulNori
Figure 3.
In September of 1978, four Korean traditional music artists with members Jong Sil Choi, Duk Soo Kim, Yong Bae Kim,and Kwang Soo Lee first created what we know as modern samulnori, under the name "SamulNori." After the creation of the genre as a new music and dance category that year, what originally began as a four-man ensemble expanded into a large company of many artists and students. SamulNori's dedication to traditional Korean performing arts led SamulNori to further grow as a full-fledged educational and research enterprise.
With their first US tour in 1982, with their performance in Dallas, Texas, SamulNori gained rave reviews with audience and critics alike praising them for their "unsparing energy and technical mastery." With this incredible attention, SamulNori returned several times to perform in New York, Los Angeles, Boston, Chicago, Hawaii, among many other locations and they have appeared as part of the Asia Society's sponsored tour across the country. In 1985, the Asia Society was awarded an "Obie" for Outstanding Achievement for introducing SamulNori to New York's stages.
SamulNori has also performed at the Kennedy Center in Washington D.C. and at the Smithsonian Institution as part of an effort to establish scholarly exchanges between the Smithsonian and Korea. They also served a residency for the Ethnomusicology Department at the University of California at Berkeley. In 1998, SamulNori headlined a benefit for North Koreans at the Lincoln Center, presented by Korean Americans for Global Action.
Internationally, SamulNori has toured Australia, Austria, Brazil, China, Denmark, Germany, Great Britain, Japan, Portugal, Russia, Sweden and Switzerland. In 1988, they accompanied the Korean Olympic representatives for the lighting of the Olympic Torch in Greece.
SamulNori has collaborated with many highly acclaimed musicians from a diverse range of international genres. They have performed with jazz and pop musicians, in addition to performing orchestral works composed specifically for them.
To this day, samulnori is learned, performed, and enjoyed worldwide; in the US, many colleges and universities have their own samulnori performance teams as well as many active professional teams. Together, they spread the philosophy and beauty of samulnori to enthusiastic audiences and the next generation of performers.
FUN FACTS
(Selection from the full list in downloadable booklet)
1. Since the origins of Samulnori, there was a sudden boom of popularity of the genre across the world and a random culture emerged. These fans were called "Samulnorians." These days, the term has expanded to mean both fans of Samulnori and those who play Samulnori.
2. Hodori is the official mascot of the 1988 Summer Olympics that was held in Seoul, Korea. The tiger character is wearing a hat called sangmo, traditionally worn while playing pungmul/nongak performances, a participatory folk art form with percussion and dancing. The long ribbon on the hat is spun around as a part of the choreography. In his default pose, Hodori's ribbon spells out an "S" for Seoul.
3. A farmers' band is usually led by two standard bearers, one carries the flag of his band/troupe and the other holds aloft a banner with the inscription "Farmers are the Principals of the World." They are followed by a dancing boy and a hunter.
4. Because farmers were traditionally recruited as soldiers when a war broke out, there was a lot of exchange of ideas between the military musical tradition and village dances. A lot of choreography is based on military exercise movement, and the hats the performers wear resemble ancient helmets.
5. You may have noticed that samulnori performers wear very distinct costumes with three-colored ribbons: blue (representing the sky), yellow (representing earth), and red (representing humans). Worn together, they embody the harmony of all the heavens and earth.
SAMULNORI BOOKLET
Download the full SAMULNORI BOOKLET with more information and full glossary here
Figure 1
Photo provided by Samulnori Hanullim
Figure 2
"Nongak." NAVER 지식백과, An Encyclopedia of Korean Culture,
terms.naver.com/entry.nhn?docld=533927&cid=46661&categoryld=46661.
Figure 3
Space Theater. "SamulNori, First Quartet, 1981." Korean SamulNori, Sound Futures,
soundfutures.org/case-study/korean-samulnori.
Figure 4
"Dallas PASIC Samulnori Performance, November 1982." Samulnori 30th Anniversary
Performance, Interpark,
ticket.interpark.com/Ticket/Goods/GoodsInfoHttp.asp?Flag=Detail&GoodsCode=08000371.
Figure 5
Antique Alive. "Samul-Nori, Korean Drummer/Dancers." On the Road-50th Anniversary of Kim Duk-Soo Debut, Antique Alive, New York,
antiquealive.com/store/detail.asp?idx=2521&CateNum=91&pname=On-the-Road---50th-Anniversary-of-Kim-Duk-Soo-Debut.
Figure 6
Lygkoni, Katerina. "Korean Samulnori Artists Perform at the Ancient Temple of Olympia before Lighting the Seoul 1988 Olympic Flame, with an Audience of Around 15,000 people." Korea Blog, Korean Culture and Information Service, 31 Aug. 2016,
koreanetblog.blogspot.com/2016/08/olympic-flashback.html.
Figure 7
"2013 Kyodongnongaktae." Nongak, GangNeung Danoje Festival, 26 July 2013,
www.danojefestival.or.kr/contents.asp?page=290&kind=2&IDX=3157.
Figure 8
Photo provided by Samulnori Hanullim